Fair Lawn High School
Class Of 1961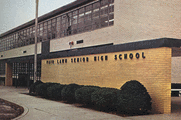 In Memory
George Sesso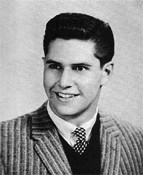 (1943 - 27 May 2012)
George's son, Howie, wrote hours after George passed away:
"After a long and courageous fight, my Dad passed away this Sunday evening in peace. Please take a brief moment to recall a happy memory with him.
Details to follow, but we are planning a wake for Tuesday in Parsippany and a ceremony, internment, and shiva on Wednesday."
George was married to Barbara Kirschner, FLHS '62. Marsha Thaler, a member of that class, wrote to Anne O'Neill Horst:
"Barbara Kirschner's husband, George Sesso (FLHS '61), passed away last night after a long illness including a major heart problem, diabetes and a debilitating stroke. This past year was particularly grueling.
Theirs was a mixed marriage hence the dual remembrances of wake and shiva.
May George rest in peace and the Kirschner and Sesso families have no more sorrow."
Anne added that George had always come to our Reunions prior to his illness.
George and Barbara Sesso the night before our 35th Reunion (1996).