Fair Lawn High School
Class Of 1961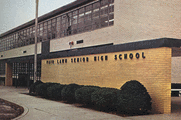 How the Cutters were named
Below is the story of how the Cutters were named. Dick Englehardt, Class of '57, is the voice of FLHS, who calls all the football games.
THE GRIDIRON
The Origin of the CUTTERS of Fair Lawn High
By Dick Engelhardt '57
It all started September 13th, 1943 when FLHS opened without seniors, who stayed at Paterson Eastside, Hawthorne and Ridgewood to graduate in 1944. Coach Marty Fischbein led the CUTTERS to a fine 9-4-2 (.692) record in independent action in 1943 and 44 after starting up with 3 JV games. Some called the new team the COMETS because they scored quickly in their first game, a 7-6 loss to the RAMS of Lodi, and others called them the CLIPPERS. The Lodi loss was followed by a 12-6 victory over the MAROONS of Ridgewood. It's been said that some team members would leave school early to visit Doc Gurney, after whom Gurney Terrace is named, for taping and disappear for a time forcing Coach Fischbein to wait for the arrival of these "cutters" before he could run a full practice. And then, leading into the Leonia game, team co-captain Jack Van Olden led Tony DiNegri, Art Jaeggi, Jack Knowles, Al Livingstone and Bill Perkins on a sneak trip to the Rivoli Theater in Paterson to see "Holy Matrimony" and "The Seventh Victim" during school hours. The miscreants were caught and coach Fischbein kept those "cutters" out of the game. With the LIONS up 12-0, he put our heroes in and Fair Lawn roared back to win 13-12. Livingstone, who passed away, in 2008, took a pass from Van Olden, who passed away in 1992, and ran it 43 yards for a TD. In the 4th quarter, he ran 20 yards for a TD and plunged for the extra point winning the game. The student body, having chosen Crimson and Gray as the school colors, said "The Cutters won the game!" They insisted that the athletic teams be known as "The CUTTERS of Fair Lawn High." And so it still is! The "original" 1943 CUTTERS were inducted into the Fair Lawn High School Athletic Hall of Fame in 2009 along with this writer. Van Olden had been inducted individually in 2007.
Marty Fischbein's brand new 1943 CUTTERS followed those 3 JV games with a 4-1-1 (.800) record in varsity action in a truly remarkable first season!