Fair Lawn High School
Class Of 1961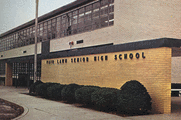 In Memory
Estelle Sandow (Needleman)
(September 26, 1943 - October 15, 2018)
[The following was posted on Estelle's Facebook page by her family:]
We are posting on behalf of Estelle to share some sad news. Estelle passed away while on vacation with Paul in Italy. Below is our remembrance of her.
-- Paul, Michael and Sue, Leigh and Andrew
_ _ _ _ _ _ _ _ _
Estelle Barbara Sandow Needleman, age 75, died while on vacation in Como, Italy with her husband and children by her side. Estelle was born on September 26, 1943 in Paterson, NJ. Her parents, Louis Sandow and Adele Immerman Sandow, raised her with her two younger sisters, JoBetty Sorensen and Natalie Finkelstein, in Fair Lawn, NJ. Estelle's father, Louis, died when she was a young teenager, and they were raised by Adele and their grandmother, Marie Greenbaum Immerman. In a household of five women, Estelle followed in the tradition of these strong female role models.
Estelle earned her bachelor's degree in art from the University of Bridgeport in Connecticut. In a clichéd way that she would frequently recount, Estelle met Paul on a blind date. Her warmth, energy and joie de vivre won over Paul, and they became lifelong playmates, tireless adventurers, and competitors.
"The lovely" Estelle and Paul raised their two children, Michael Aaron and Leigh Anne, in Allendale, NJ.
After Michael was born, Estelle earned her master's degree in art education from Montclair State College. Estelle painted large modern art pieces for many years. Paul would build and stretch the canvases, while Estelle meticulously designed and painted on the dining room table and floor. Her imaginative works adorn the walls in homes of friends and relatives. She later embarked on a career in publishing as a production editor, first in local newspapers and then for the Pearson Educational Textbook Division.
She loved music, which led to her singing tenor in the Pro Arte Chorale and the Temple Beth Shalom and Beth Rishon choirs. In addition to singing, she relished attending rock and roll concerts, spending weeks-long vacations at Tanglewood Classical Music Festival and Jazzfest in New Orleans, and becoming a Deadhead along the way. She also enjoyed going to the opera, modern dance and Broadways shows.
Estelle was many things, and she excelled easily at most: artist, prolific gardener, homemaker, talented chef, Halloween-costume designer, reader, editor, environmentalist, philanthropist, aggressive bicyclist, most of all mother, loving grandmother, and dedicated spouse; and eye-rolling, understanding, comprehending foil. She took great delight in hosting elaborate family and holiday dinners and was the consummate matriarch leading holiday services and rituals with the family. She was the most selfless and best mother and life-companion we could have imagined, and her enthusiasm for all that she engaged in was contagious.
When the grandchildren arrived, it was Estelle's delight to share everything she so loved with the next generation. She introduced the kids to the dinosaurs at the Natural History Museum, the joys and humor of Gilbert and Sullivan, and the crazy chair exhibit at the Museum of Modern Art, and she supported their passion for Legos and wildlife. There was nothing she loved more than having the grandkids stay overnight on inflatable mattresses, waking up before the sun so she could play games, read, and feed them pancakes and homemade delicacies for breakfast prior to a day of roaming the city. At the end of the day's adventures, she carefully chose the perfect adventurous restaurant for dinner: Ethiopian food in Harlem, Korean food in Midtown, Sushi on the West Side, Peruvian food in Hell's Kitchen, and everything in between.
She developed chronic lymphocytic leukemia, CLL, a slow and manageable ailment which left her immune system compromised. She fought through pneumonia a number of times and bounced back from hospital stays to return to long cycling trips. Every week, they set a target of one hundred miles per week traveling Central Park and along the Hudson River.
Estelle and Paul moved permanently to New York City by 2010, surprising them both. In addition to vacations within the U.S. and abroad, Estelle was a lifelong learner. She searched out lectures and talks across the city on a wide range of topics, in addition to gallery shows, theatrical works, concerts, an eclectic array of cultural offerings, whatever the city had to offer. Conversations with Estelle often began with, "We just recently saw ------- have you seen it? You really should go ------- we enjoyed it so much!" This is also true of the way that she lived her life – engaging in activities that she loved and sharing them with others.
Estelle is survived by her husband Paul, son Michael, daughter-in-law Sue, daughter Leigh, son-in-law Andrew Frishman, her grandchildren Jessica Eve Needleman, Dylan Cole Needleman, Jordan Elena Frishman, and Lundy Owen Frishman; and her sister JoBetty Sorensen.
For those who choose, here are a few organizations that she has faithfully supported over many years:
Anti-Defamation League : https://www.adl.org/
Leukemia & Lymphoma Society : http://www.lls.org/
Planned Parenthood : https://www.plannedparenthood.org/
Rails-to-Trails Conservancy : https://www.railstotrails.org/