Fair Lawn High School
Class Of 1961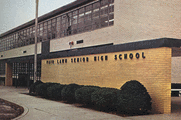 In Memory
Robert Richman VIEW PROFILE
(19 June 1943 - 12 February 2015)
Robert Richman passed away on February 12 with his loving family beside him. Born in Brooklyn, New York, to Harold and Roslyn Richman, Robert later moved to Fairlawn, New Jersey. After serving in the U.S. Air Force and attending the Universities of Maine and Tennessee, he eventually found his way to California, where he graduated from California State University, Los Angeles, with a degree in Political Science. Shortly thereafter, he met his wife-to-be Norma. They settled in the Pasadena area, where their two wonderful children, Deborah and Jason, were born.
Robert worked for over 34 years as a stock broker and financial advisor on Lake Ave. in Pasadena. He enjoyed travel, golfing with his local buddies, and an occasional trip to the racetrack. His other passion was music, especially the "American Songbook" selections.

Robert leaves behind his wife of 45 years, Norma; his daughter Deborah Hernandez of Laguna Hills; his son Jason Richman of Redondo Beach; his son-in-law Rene' Hernandez; his fantastic grandson Evan Hernandez; and his brother Martin (Joyce) of Hollister, CA.

A Celebration of Life is to follow. In lieu of flowers please make donations to the Huntington Hospital Office of Philanthropy, the Colburn School Orchestra, or the Pasadena Symphony and Pops.
[Published in Pasadena Star-News on Mar. 1, 2015.]
Memorial from Alan Kirsch, Lonnie Klein, Lew Kurlantzick, Ira Mendelsohn, Ian Newman, Ted Press, Bob Shapiro:
For the past thirty years we and our late friend, Bob, met regularly to laugh, reminisce and strengthen the bonds of our friendship. Bob was a wonderful husband, father, grandfather and friend, taken too soon.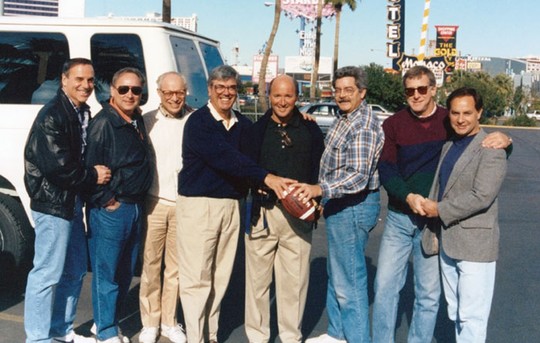 Alan Kirsch, Bob Richman, Lew Kurlantzick, Bob Shapiro, Lonnie Klein, Ted Press, Ian Newman, and Ira Mendelsohn

Photo from 20+ years ago, because it was the last time that all 8 of us were together. In succeeding years one or another wasn't able to attend our annual reunion. Bob was very much a central figure that everyone in our group was able to engage. We miss him!
Click here to see Robert's last Profile entry.