Fair Lawn High School
Class Of 1961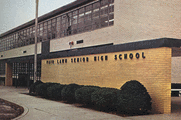 In Memory
Roy Poltersdorf
(October 13, 1942 - November 14, 2018)
Roy O. Poltersdorf, age 76 of Glenwood, N.J., passed away on Wednesday, November 14th, 2018 at his home.
Born in Paterson to the late Otto and Lillian (Martin) Poltersdorf, Roy will be remembered as a warm, inviting, dedicated family man and a loving husband, father, uncle, brother, grandfather, and great-grandfather. He was an avid Nebraska, Giants, Yankees, and Walkill Valley Rangers Fan.
Predeceased by his parents, Roy is survived by his loving wife, Carol (Kalker) Poltersdorf; sons Roy Jr. and wife Linda, Todd and wife Nicki, and Scott Poltersdorf and companion Dawn Thompson. He is also survived by his grandchildren Bryan and wife Laura, Samantha, Michael and companion Sean, Abby, Shane, Ashley, and Kassidy; great-grandchildren Eli, Emmitt, and Evelyn; as well as his sisters Donna DeFeo and Margaret Ledwith, and his brothers David and Thomas Poltersdorf.
Funeral services will be held Tuesday, Nov. 20, 2018 at 10:30 a.m. from Ferguson-Vernon Funeral Home 241 Rt. 94 (GPS use 1 Vanderhoof Ct.) Vernon. Friends may call at the funeral home on Monday from 4-8 p.m. In lieu of flowers, memorial donations may be made to Sparta Presbyterian Church. For directions and online condolences, please see www.fergusonfuneralhomesnj.com.
[Published online in The Advertiser-News North November 16, 2018.]
http://www.advertisernewsnorth.com/article/20181116/MILESTONES01/181119964/0/MILESTONES/Roy-O-Poltersdorf