Fair Lawn High School
Class Of 1961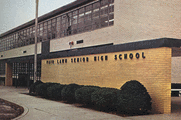 In Memory
Theodore Openhym
(April 1, 1942 - January 5, 2021)
The following was sent to us by Ted's wife:
Theodore Openhym, age 78, passed away on January 5, 2021 in Roseville, CA, of natural causes advanced by Alzheimer's.
He is survived by his wife, Susan Openhym (Deis), his daughters Virginia Bondi, Christine Martinez and Patricia Muirhead, and 7 grand children and 1 great grand daughter.
Married for 58 years to his high school sweetheart, Ted was predeceased by his parents, sister and brothers. He was the last of his immediate family. Ted loved working as an Iron Worker while living in NJ, and upon moving to CA in 1976 worked as an electronics technician and became an accomplished Stained Glass artist.