Fair Lawn High School
Class Of 1961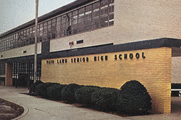 In Memory
Doris Mayer (Gorgas Peacock)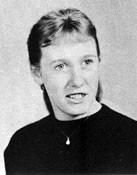 (28 January 1943 - 1 December 2007)
From the Asbury Park press: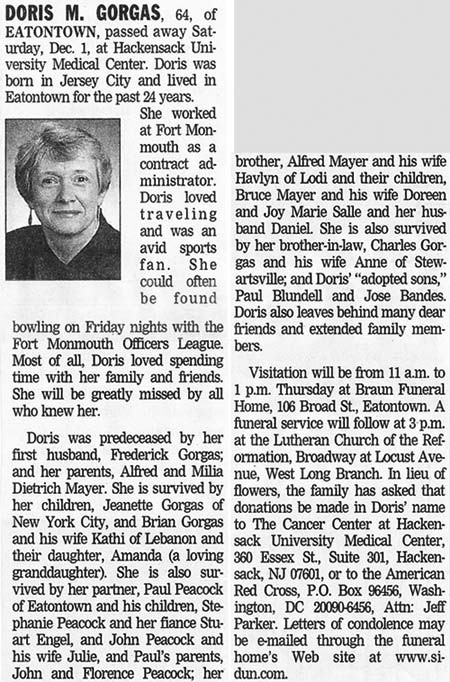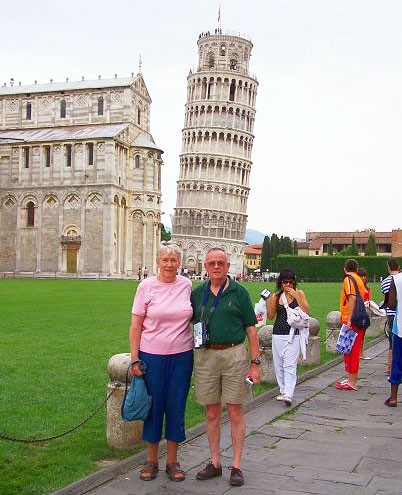 Doris and Paul in Italy (June 2006)
Paul Peacock's Eulogy for Doris (12/6/2007):
Doris Gorgas; my best friend, the love of my life, loving mother and grandmother, and special friend to so many people. Our journey together began 53 years ago when your family moved into our neighborhood in Fair Lawn, NJ. For the next 13 years, we were not only neighbors, but we were also best of friends. We spent hours together on each other's front steps just talking, but when we tried to remember recently what we talked about we had no idea. We also walked to school all the way through High School and shared many classes together.
In junior high school, both of us did quite well and qualified for the speech contest to determine who would be the two graduation speakers. Doris figured that I had no way to beat her out since she had all the teachers wrapped around her finger while I was always on the edge of getting in trouble with the teachers. Well, low and behold, somehow I was selected above Doris, but she did at least finish second. I thought that was pretty cool that we both were speakers, but she didn't quite see it that way and has never let me forget.
After graduation from high school, we both went our separate ways to college. It wasn't until 40 years later that an innocent enough e-mail changed our lives forever. Doris had attended our 40th year reunion but I did not go. She had such an enjoyable time that she sent me an e-mail to tell me how great it was and asked what I was doing for the past 40 years. Doris had lost her husband and I had just gone through a divorce, so I decided to ask her if I could pay her a visit around the holidays that year. She thought it was a good idea, but Jeanette said, "mom you don't know him, he may be an ax murderer." Thanks Jeanette!! Anyway, Doris said come on up and I did. We spent the first evening catching up on the 40-year gap, and we both could tell from the start that there was something special in the air between us.
The rest of the visit was equally enjoyable and this began a monthly shuttle service between here and Houston where I was residing. This lasted about a year and we decided it would make more sense to pick one of the places to live together. We selected here, as it seemed closer to most of the family including my parents. And family is exactly what was at the center of Doris' life. She always made everyone feel comfortable when she was around. Still, I was a little worried about how the two families would join together. Following Doris' example made it much easier. She treated my children and parents as if they were hers. She just had a knack for making everyone feel comfortable whenever they were with her. Her love was endless.
It even carried a step further. It seems that one of the Gorgas' traditions at the holidays was to invite people who did not have a place to go. Jeanette would travel around and pick up what they referred to as strays. Doris never minded, the more the merrier. In fact, two of these strays are here today, Paul Blundell and Jose Bandes. These two strays came but have never gone away. In fact they were adopted as Doris' sons and have become an integral part of the family. Today they are serving as pallbearers which would make Doris extremely happy. The bonds that she formed with these two wonderful people are just amazing. Due in large part to her efforts, the two families along with our adopted sons have formed a very special family that I am so proud to be a part of.
Our life together since I moved here was just wonderful. We have enjoyed doing so many things together including extensive travel, Broadway Plays, sports, and just staying at home. Doris always said that just being together was enough for her. Just being with a person as wonderful as her was certainly enough for me. I will miss all these wonderful times even though I know in my heart that she is now in a better place. And as Nana's loving granddaughter told me on Sunday, Nana is in heaven and she is looking over us. And I told her that means we better be good.
As I thought about why she was taken from us at this time, a thought crossed my mind. We had more fun together in the short time that we had than most people have in an entire lifetime. Maybe the Lord was saying that's enough. Well, regardless of the reason I will miss you so much and look forward to joining you in the future to continue our special journey. I love you honey.