Fair Lawn High School
Class Of 1961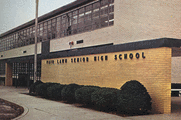 Craig Boydell
Craig Boydell, PhD
Professor and Coach Emeritus
Department of Athletics
Faculty of Health Sciences, Faculty of Social Science
Western University, London, Ontario, Canada

In 14 years as Head Coach of Men's Basketball, Boydell's teams have won one National Championship, five Conference Championships and four Ontario Championships (Wilson Cup). In addition to the one Gold Medal his teams have won one Silver and three Bronze Medals at the Nationals. His overall record of 326 wins and 120 loses, has established him among the elite university basketball coaches in modern history of Canadian University Basketball. He has been named a Conference Coach of the Year on four occasions and in 2000 was the CIAU National Coach of the year. He has also served as President of the National Coaches Association where he helped reorganized the NABCC into a pro-active organization claiming a more active stake in Canadian basketball.
Boydell is respected as an outstanding teacher, motivator, and strategist. More importantly, for those who have played for him, he is seen as someone who is committed to player development and success well beyond the basketball court. Coach Boydell is a strong advocate of the student/athlete model and the importance of athletes giving back to the community. He marks among his proudest achievements the significant number of Academic All-Canadians he has coached over the years as well as the disproportionate number of his players who have won University and National Awards for Academic excellence and Community Service.
Born and raised just outside New York City in Fair Lawn, New Jersey, Boydell graduated with Honors from Rutgers University and the University of Massachusetts, where he earned his MA and Ph.D. in Sociology, specializing in Criminology and Demography in 1969. While attending Fair Lawn High School he was a three-sport athlete and co-captain of the Baseball and Basketball Teams. At Rutgers he played Freshman Basketball and Varsity Baseball.
In 40 years as a Professor at Western, he has been engaged in a wide variety of teaching, research and administrative activities, in addition to his role as coach. He was recruited to Western with a mandate to develop courses and programs with Canadian content during a major growth stage of the Faculty of Social Science and Canadian Post-Secondary education generally. He established over a dozen new courses and also co-edited 6 textbooks, which were among the first Canadian Content resource materials for University students. Nearly four decades later just prior to his retirement he was still making inroads in course innovation with the introduction of an experimental seminar in Sport and Community Service involving senior student athletes in some challenging community outreach projects. Both the course and the projects received significant acclaim and both local and national media attention and helped pave the way for future initiatives using this "experiential" course model. Among the issues addressed in public events created by course participants were anti-bullying, aboriginal youth, and the desperate plight of children in Northern Uganda. An Aboriginal Track and Field event has continued to be run by the Track and Field team a decade after its inception in the course.
During his tenure in the Faculty of Social Science Boydell served terms as the Chair of Graduate Studies where he introduced an Applied Masters Stream in Sociology and played a role in the development of the Department's Ph.D. programs. Following a sabbatical in Ottawa and Norway in 1977 he was appointed as the Director of Special Programs in the Faculty of Social Science where he was the founding Director of Western's Bachelor of Arts Program in Administrative and Commercial Studies (recently renamed the Dan Program in Management and Organizational Studies - BMOS). He developed and Director this program for its first eight years during which time it became a model of inter-disciplinary program development and one of the highest demand limited enrollment programs in Canada, which it remains today.
While still Directing ACS and teaching in Social Science Boydell reinstituted the Junior Varsity Basketball program as a volunteer project in 1982. In the two years that he coached "the Colts" 10 of his players, who had been cut from the Varsity team, went on to play Varsity Basketball at Western and three other Universities and two were named OUA All-Stars. In 1985 he agreed to assist Coach Doug Hayes who was returning from a Sabbatical on the Varsity Team. While still a full time Faculty Member he served as lead Assistant and then Associate Head Coach for the next five years. In the first of those years the team went on to its first National Championship appearance in two decades and made 2 more appearances in the four years that followed.
Feeling drawn back into more direct contact with sport and coaching Boydell transferred over to the Faculty of Kinesiology following his retirement from the Directorship of ACS and an Administrative Study Leave in 1988. Once in Kinesiology, in addition to coaching with the men's basketball team, he attained a number of research grants and established a Research Center for Sport and Social Policy. He also introduced a new graduate course in Sport Policy Evaluation. Boydell assumed the head coaching position of the Men's Varsity Basketball program following the retirement of Hall of Fame Coach Doug Hayes in 1990.
In the summer of 2006 Coach Boydell retired from the Coaching part of his position at Western and in 2008 he became Professor Emeritus. Following his retirement Boydell was inducted into the Ontario Officials Hall of Fame, The Men's Basketball Hall of Fame and The Western University Mustangs Sports Hall of Fame. His National Championship Team has been inducted into City of London Sports Hall of Fame and the Western Mustang Basketball Hall of Fame.
In addition, The Men's Basketball Alumni Back Court Club instituted a special Annual Award and Trophy in his honour; The Craig Boydell Award for Excellence in Sport, Scholarship and Community Service that has been presented annually since 2007.
Boydell parlayed a two-year visiting-professorship into 45 years of service to the Western Community where he has continued on as a Professor Emeritus since 2008. He is married to Dr. Ingrid Connidis a Professor at Western. The couple has four children: Michael, Patrick, Kai and Nora and five grandchildren (Jackson, Troy, Duncan, Haley and Griffin).